This week we interview Nelson Wissar, the proprietor and art director at Zeppelin Animation Studio. Nelson's long career has gifted him with a rich and unparalleled portfolio. We feature some of his own work as well as that of his studio's to celebrate his gift and unequaled talent as a creative.
1.How would you describe your design style?
I think it is versitile. Zeppelin is a multitalent studio where we approach every project through investigation and idea exchange. We have an eclectic portfolio from fruits and animals, through motion graphics to complex robots and cgi.
2.How long have you been a designer for?
I have been an art director and designer since 1999. I worked for many local advertising agencies such as Mayo FCB, Pragma D'Arcy, Quorum Nazca Saatchi&Saatchi and Leo Burnett Lima. In 2008 I started Zeppelin Animation Studio.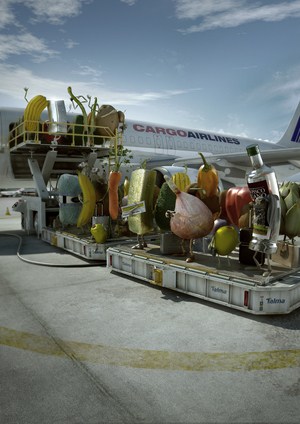 3.Where are you from?
Lima, Perú
4.Which is your favorite project?
The Sutent Lion we worked on for CDM New York.

5.What do you wish you knew at the beginning of your career that you know now?
Well, it would have been very easy to know all what I know now! haha. But I think the most challenging and rewarding experiences came from being in totally new, unfamiliar and unknown projects and spaces. I think this takes you out of your comfort zone and pushes you to find creative solutions and build up character. But taking a look at the past, maybe it would have been helpful to know a little bit of management when i started my own company.
6.What work are you most proud of?
We have many projects that we feel proud of, the most would be "Denny's Reindeer Vs Camels", 1 , 3 and the "Sutent Lion" and "Coffins".
7.Where do you find inspiration?
I like to meet and follow talented people. They have a very especial approach in how they see life and work. I also find inspiration in music, it fires up sensations and emotions that spark ideas and visuals.

8.What techniques and software tools do you use to keep yourself organized?
For 3d CGI we use Pixologic Zbrush, Autodesk Maya and Arnold Render, final finishing is done with After Effects and Photoshop. For organizing personal ideas and notes I use Evernote. We use slack for team communication.
For more inspiring portfolio's head to the Crazyleaf Design blog.