HTML5 is one of the latest web development technologies available to web designers and it has been around for awhile now. This new version of the HTML markup features a bundle of new features that make it very powerful. There are a lot of web designers that produce free HTML5 templates you can use a starting point in any if your design.
Modifying  a pre-existent HTML template is a technique many web developers use and it can be a real time saver. Taking a free HTML5 template and improving it or adapting it to your needs can prove to be a much faster method of web design than starting from scratch. I admit it has been a technique I myself have used over the years and it is very effective.
Even though there are a lot of beautiful cheap HTML5 templates out there, finding some great looking ones, that are also free can be quite tricky. So I thought it would be a good idea to put together an updated list of templates for 2013. Below there is a list of 25 beautiful free HTML5 templates you can use to built your next project or to get that website redesign you always wished.
Overflow
Overflow is built using the pwerful skelJS framework and includes a portfolio section, a social section and several text only and text with image sections. Overflow is a free HTML5 website template. The template is fully responsive and is a one-page design.
Arcana
Arcana is a responsive HTML5 template suitable for any type of website because of its amazing adaptability.
Astral
Simple vCard HTML template including 3 pages : homepage, portfolio and contact page.
Dopetrope
High quality responsive portfolio HTML template including a drop-down menu navigation and several page layouts like : right sidebar, left sidebar or no sidebar.
Escape Velocity
Halcyonic
Helios
Minimaxing
Miniport
A free, fully responsive HTML5 site template best suited for your creative portfolio.
Prologue
Striped
Strongly Typed
Telephasic

Txt
Verti
Zerofour
Stylish Portfolio
Responsive Single Product Template
Boldy: Minimal Responsive Portfolio
Codester
Codester is basically a portfolio template for creative people like designers, photographers, graphics artists and more. But with some basic customization you can actually transform this template into your desired website. Codester comes with complete customizable package including latest JavaScript, Scaffolding, Base CSS and Components.
Simplex
Simplex is a free responsive HTML web template, useful for personal online portfolio, design agency website, photographer's portfolio, etc.
Flat HTML5 Template
This is a simple and elegant HTML5 Website Template, the template includes a header, menu, call to action area, portfolio section and footer.  All content is in a single HTML5 files making it quick and easy too edit.
Paradigm Single Page Portfolio
This template contains Home, About me, Portfolio and Contact section, a cool Pirobox gallery, a dynamic and customizable contact form and more.
Legend
Legend is a multi-purpose responsive one page template built on Twitter Bootstrap. You can use this template as a landing page, online portfolio for creative folks or even as a business theme.
Flat Design Mini-Portfolio
This is a HTML5 portfolio template in two versions, one is multiple page and second is single-page version with beautiful smooth scroll effect.
Appology Comming Soon Template
Nina HTML5 Template
Nina is a free HTML5 minimal template suitable for a portfolio website. It includes 5 different pages.
Christmas coming soon template
This is a Christmas coming soon HTML template available in two versions, a white and a red version. It features a smooth show script.
BisLite HTML Template
BisLite is a free HTML template that includes 3 pages : homepage, portfolio and contact page.
Proximet
Proximet is free HTML template compatible with Major Browsers, Smartphones and Tablet's. It is based on 960 grid and elegantly scales down to downsized browser windows, tablets, mobile phones (in landscape and portrait).
Obscura
Zeences Dark
Zeences Light
Caprice
Serendipity
Socialike
HTML Resume Template
Delphic
Halftone
Businessus
A stylish and clean design ideal for any business website. The design can be modified to work with other types of websites, such as a blog or portfolio. And you don't need to worry about fonts! This design uses only one commonly available font, Lucida.
Madison
Madison is a great HTML template for those who need a personal portfolio to showcase their work or offer your services. It features a page to list your work and a working contact page.
Vintage HTML Template
Zen HTML Template
Built in a dark and light theme, it comes with a fully working contact form, 6 post types for the blog, drop down menus and 4 different page layouts.
Caja HTML Template
HTML 5 template perfect for creative's portfolio offering files for download and showcase work. It comes with a fully working contact form, 5 different page layouts and uses Google fonts.
Watercolor
Watercolor is a cute and friendly XHTML /CSS theme with 4 different skins (spring, summer,autumn and winter) and a fixed layout.
Left HTML Template
Torn HTML Template
XHTML template with 5 pre-defined different skins, 7 page layouts and JQuery functionality and only one sprite file image for the graphic elements.
Kroft HTML Template
Resume HTML Template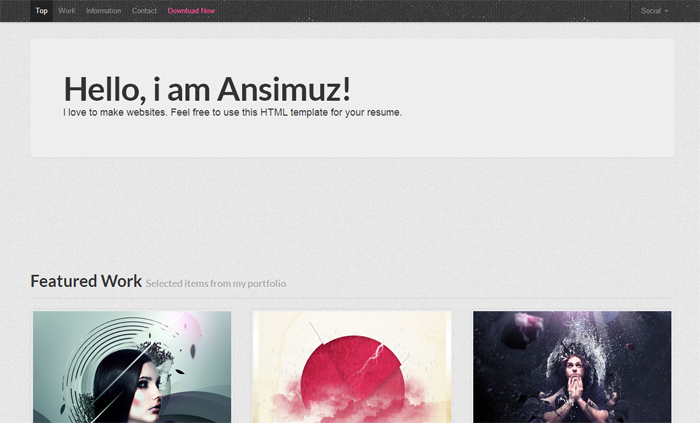 Resume is a one page HTML 5 template and responsive made using Twitter Bootstrap.
Nova HTML Template
HTML 5 template sleek design more than 5 page templates, working contact form, frot page slider, twitter feed, background patterns included.
Tapestry HTML Template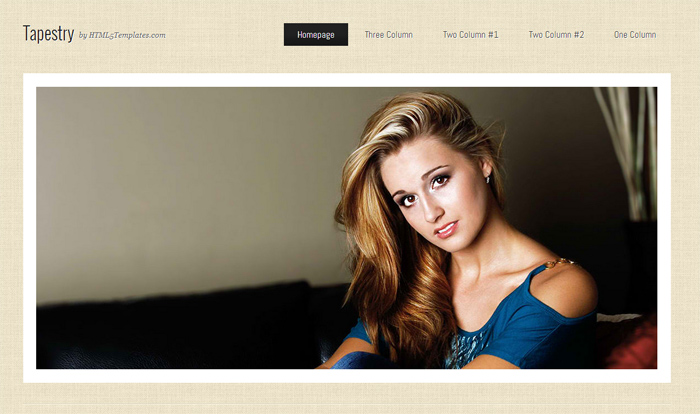 Heavy Industry HTML Template
Generic HTML Template
Brushed
Brushed is Free One Page Responsive HTML Template based on Twitter Bootstrap Framework. It is optimized for Retina Displays ( iPhone, iPad, iPod Touch and MacBook Pro Retina).
Deadstocker
A very modern looking, dark themed based, Fashion website template. This beautiful site is designed by Vladimir Kudinov This complete template is HTML5 based with a cool jQuery slider.
Grunge HTML Template
Grunge is a dark, grungy personal blog template designed by PsdNations.info for free use in both commercial and non-commercial projects. This template some really cool CSS3 features.
Wee HTML Template
Single-Page Scrolling HTML Template
Do you know any good HTML5 website templates ? If you didn't find what you're looking for, take a look at these awesome paid HTML templates.