Contact forms are crucial for any website. Without a contact form you are forced to directly display your email address and this leaves in vulnerable to email collecting bots.
Also see : some of the amazing premium contact forms
Believe me I have tried every possible solution to hide or camouflage my email address and at the same time keep it readable to potential customers, and it doesn't work. Simply put, if you want to connect with your readers / clients / fans via email, you need a contact form.
A contact form has several components : the actual HTML code you place in your HTML file, the CSS styles usually placed in a CSS file and some PHP or AJAX code, used for validating the input fields and actually sending the information collected by the form.
Free HTML Contact Forms
Modal Box Contact Form / Live demo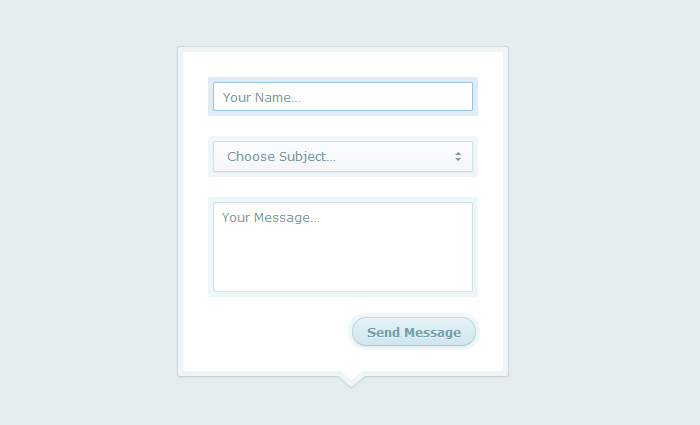 A Nice & Simple Contact Form / Live demo
Stylish HTML Contact Form
Bootstrap 3 Contact Form / Live demo
HTML contact form with CAPTCHA
PHP Contact Form / Live demo
Free HTML / CSS Contact Forms / Live demo
This contact form is available in a light theme, a dark theme, a blue, green and red color.
HTML5 and CSS3 Contact Form / Live demo
Fast and Secure Contact Form
Simple Contact Form
Free Ajax/PHP Contact Form / Live demo
Premium HTML Contact Forms
This is a a simple PHP contact form with a 3D effect. It uses PHP, HTML and CSS. The form is easy to integrate in your website and easy to customize. The pack includes a detailed tutorial on how to add fields to the form and how to integrate it in your website.
Purchase ($4)
PHP Ajax contact Form with Google Maps / Live demo
Purchase ($6)
AJAX Contact Form Extended / Live demo
This jQuery based AJAX Contact Form; Extended allows you to easily place a self-contained Contact Form on any HTML or PHP page of your existing website. It uses just 1 file to Validate, Process and Send the completed contact form to your e-mail address and a Direct Message notification to your Twitter account, best of all, it does not reload the page to validate or send the form!
Purchase ($5)
ContactZ – Impress and Contact Form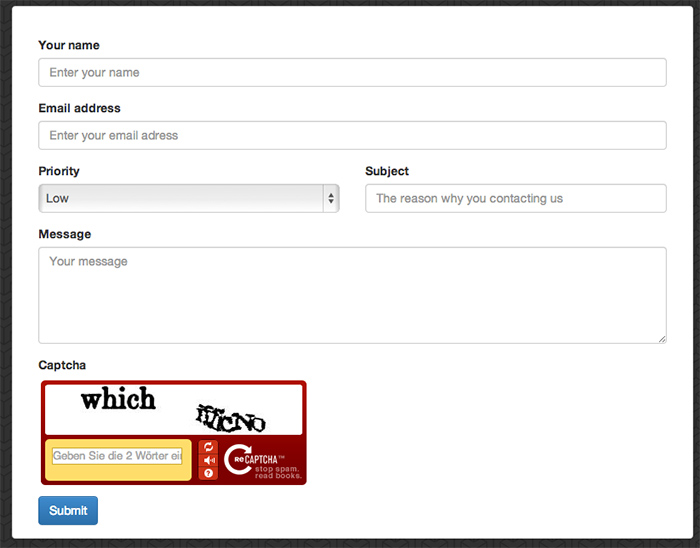 The contact form is a simple form, where the people easily can contact you or your company. To stop spammers you have the ability to add an ReCaptcha. A auto responder is also included.
Purchase ($6)
Easy Contact Form With Attachments / Live demo
This for is available with 4 themes : Light, Dark, Wooden and Transparent.
Purchase ($7)
Bootstrap Form Pack / Live demo
The pack includes 13 different Forms, Contact Form (3 forms), Booking / Event Form (2 forms), Attach files to mail (or attach multiple files), Upload file or multiple files (2 forms), Newsletter subscribe form, Register form, Login form, Registration form, Address form
Purchase ($10)
Email with Multiple Attachments / Live demo
This form lets you send fully supported HTML based email with multiple attachments. Get this script, customize settings and upload at your server or integrate it in your current project to send or receive HTML based emails containing multiple file attachments. GIF, PNG, JPG, RAR, ZIP, PDF support is built-in. You can add more file type support or remove any one from available easily.
Purchase ($6)
Mega Contact Ajax Form / Live demo
Mega Contact is a versatile and flexible Ajax contact form builder created from the ground up. It allows you to quickly construct an Ajax contact form and incorporate it into your page. Both, front (JQuery) and back-end (PHP) are written in an Object Oriented style that allows for extensibility and code reuse in an efficient manner.
Purchase ($7)
Dynamic Contact Form / Live demo
Easily create forms from the administration area, You can add text,description,select radiobuttons and checkboxes in your form. Very usefull if you want to personalise your contact form.
Purchase ($7)
Contact Form + Management System / Live demo
This script comes with the Autoresponder settings where you can enable or disable the responder system and much more features.
Purchase ($14)
Awesome Contact Form / Live demo
It's easy and straightforward to set up, and can be integrated into your site with two simple lines of code! Includes bonus features such as a customisable auto-responder, form validation and support for any HTML fields out of the box. You can add custom fields easily through your customised form template and the configuration file.
Purchase ($6)
Additional reading
You should also check out our collection of PSD login forms.
Do you know any doo HTML contact forms ?
If you designed or you know a great contact form we didn't include in this article, we'd love to hear from you in the comments below.