Newsletters are fast becoming the most used method of digital marketing. Email newsletter templates are used to create and distribute such campaigns via email. The popularity of newsletters has increased in recent years mainly because of their effectiveness.
We will start off with a great collection of free email templates by SendPulse. This multichannel email automation service lets you send your newsletter for free to up to 2500 subscribers. All of the email templates are mobile-friendly which means your emails will display properly on mobile devices as well.
Choose a template, create your email, preview it and send your campaign!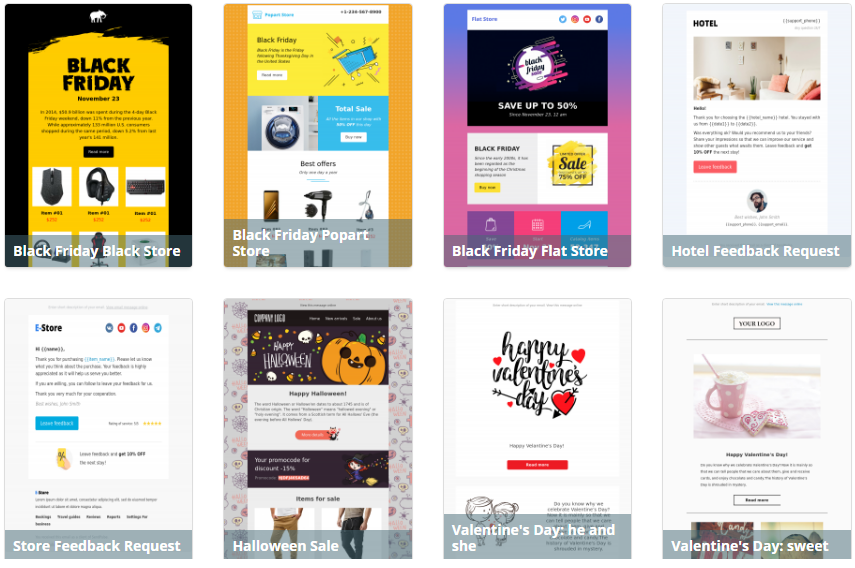 The closure of Google Reader has offered a blow on information transmitted through RSS feeds and created another opportunity for email newsletters to become more popular. That is why many blogs in the design business and not only are migrating away from RSS to email. Sending a periodic email with the best articles and resources can be even more effective in terms of traffic than a daily RSS feed. Not to mention, an email is much easier and more confortable to read than an RSS feed and you don't need anything else other than your actual email account.
Email newsletter templates are a natural response from designers to this growing need for email marketing. You can't really send plain text and expect people to read it and respond to it. That is why you will need beautiful templates to make sure your readers don't unsubscribe and they respond well to your newsletters. Below you will find a good list of both free and premium email newsletters.
Free Email Newsletter Templates
MyMail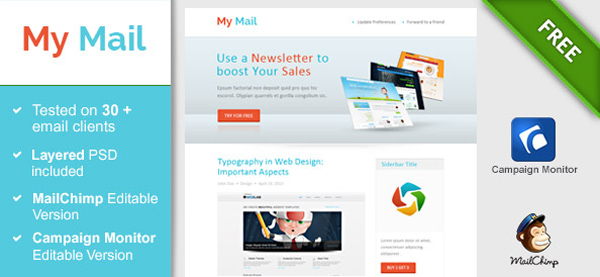 Abstract html newsletter template that could easily fit to a wide range of businesses. It could be used by every company that wants to present their content simply and straightforward. Besides everything is coded and designed, so you don't have to do anything. Just put your text and images and use it!
Clean HTML Newsletter
Clean html email template designed with the single purpose to help you build successful and efficient email campaign. If you want to establish strong bond between your brand and your customers you have to focus your attention on the content.
Blue Mail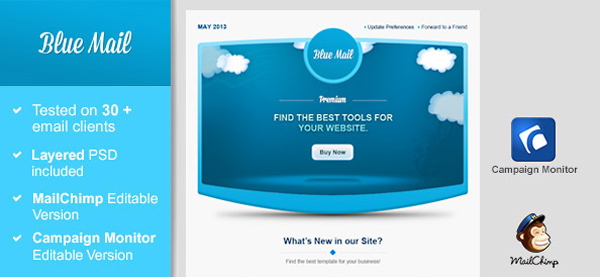 Creative email template designed in modern and attractive style.
QMail
Free email template in green color that will help you to keep your subscribers and even to impress more.
Vintage Email Newsletter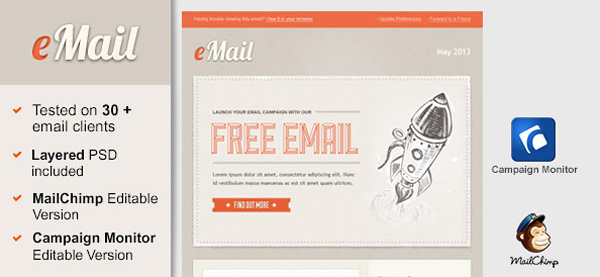 Vintage email template coded and designed with the single purpose to help you build efficient and successful email campaign.
Kids Email Newsletter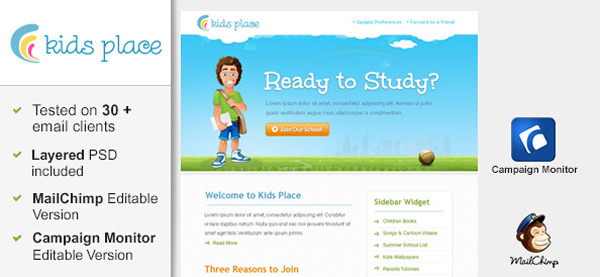 Kids newsletter template that will help you to present your services and products in more comprehensive way.
Cook News Email Template
Green email template that will help you to reach your customers and subscribers in unique and memorable way.
Classic Newsletter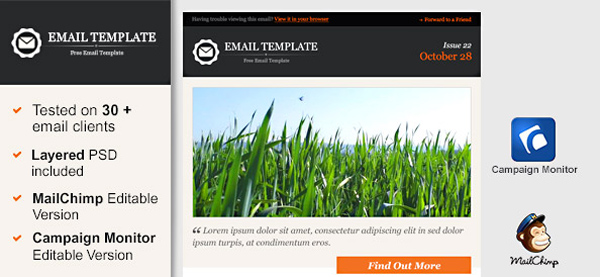 Classic newsletter template with functional layout that could easily fit to a wide range of businesses.
Contendo
Pleasant and neutral html email template, welcomed by persons with different tastes, a reliable alternative for a good message impact.
Minimo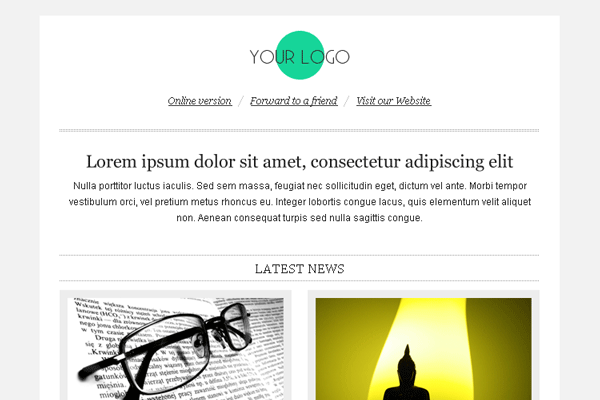 Open and minimalistic newsletter template. A layout for everyone who understands the beauty of simplicity.
Alvis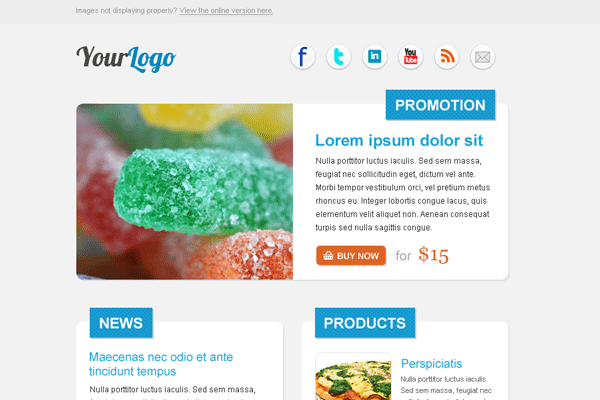 Subscribers will love it. For color and balance, for everything at its place and so easy to find. Designed to be clear, pleasant, and 100% liked.
Airato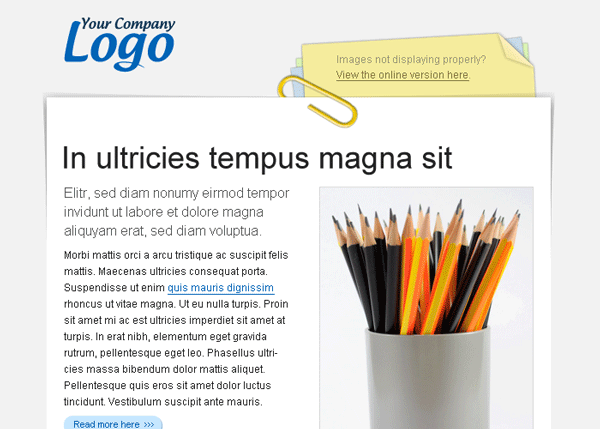 Light and agile newsletter template, with no strict lines to constrain content or images, airy and open, layout emphasizes content.
Techtyne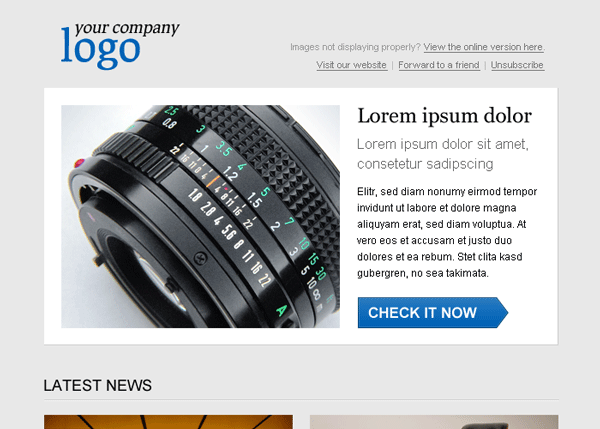 Rational and slightly technical html email template, organized and slightly sobre, best for creating an elite club membership feeling.
Amio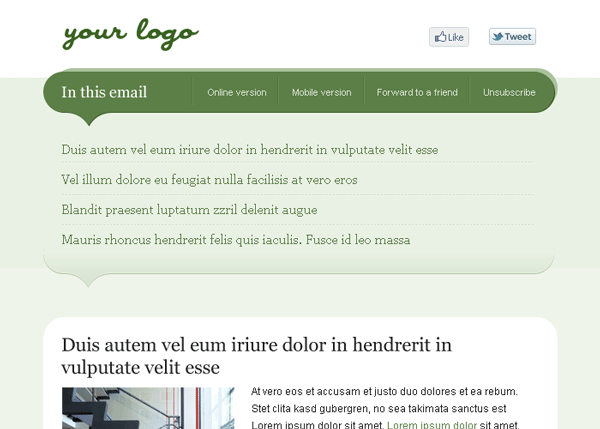 Clean and friendly email newsletter template. A neat layout for presenting your news and offers. The headline list provides links which help subscribers easily find the most interesting subjects.
Campaign Monitor Templates
Over 100 free email newsletter templates, all compatible with Campaign Monitor, of course.
MailChimp Templates
Whether you're a beginner, a design star, or somewhere in between, MailChimp has a template for you.
Free PSD Email Template
Creative PSD Email Newsletter
The email template is creatively designed with the email graphic element in the design. The newsletter template comes as a fully layered PSD file with all the graphic items organized in named folders.
Premium Email Newsletter Templates
SimpleMail
SimpleMail is modern elegant email newsletter template available in a wide variety of pre-built layouts to satisfy your every need. The package includes 8 different layouts in 10 colors. Each color has it's own fully editable, fully layered PSD file. Each color has 8 different layouts making a total of 80 HTML files. Full details of this email newsletter template can be found below.
Mint
CampaignMail
CampaignMail is a clean , minimalist and responsive e-mail template. It work well with any kind of email service provider ( iContact, Benchmark Email, MailChimp, Campaign Monitor, or Constant Contact).
SquareMail Email Template
SquareMail is a modern Mailchimp-ready email newsletter template built in a variety of pre-built colors (12) and layouts (12 for each color)
Tytan Newsletter
Tytan-Responsive email template is a multi purpose email template. Tytan is accompanied with a layout generator. The layout generator is a tool to generate layouts and customize color schemes. Easy drag system enables the user to build unlimited layouts with unlimited color combinations.
Brev Email Newsletter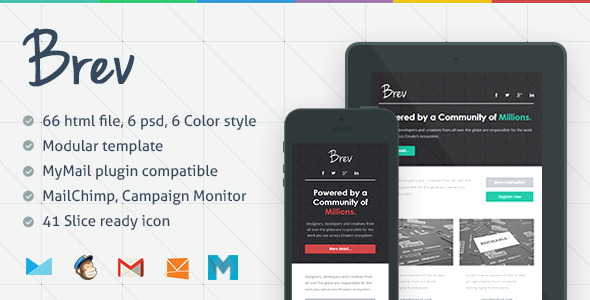 Brev is a modular responsive email template with over 60 HTML file included.
Cupcake Email Newsletter
Cupcake is a modular responsive email template, with a sweet pastel color used suit for a bakery, kids cloth, toy, event souvenir business.
Zenith Email Newsletter Template
Clockwork Email Template
Extra Email Newsletter
Extra is a clean , minimalist and responsive e-mail template. It work well with any kind of email service provider ( iContact, Benchmark Email, MailChimp, Campaign Monitor, or Constant Contact)
MetroMail Newsletter Template
MetroMail is a multipurpose and Responsive Email Template , Compatible with Major Email Clients. It includes 192 HTML templates.
Retinactive Email Template
Retinactive is far more than just being a wonderlicious word. Unique, extra cool flat design meets Mailchimp Ready responsive email templates. Retinactive works perfectly across browsers, desktop and mobile email clients.
Inboxa Email Newsletter
Inboxa is a flat email newsletter template available in 6 different colors : dark blue, light blue, light green, gray, red and yellow. The package includes both PSD and ready coded HTML versions for each template. The template is made from 12 different modules which can be modified and duplicated any way you wish. We have included in the package a tutorial on how to modify the template to suit your needs.
Flat Newsletter
This is a simple flat newsletter template available in 5 different stylish colors : red, blue, green, yellow and purple. The package includes 5 PSD files as well as the HTML version for each.
Metro Email Newsletter
This is a simple and elegant metro email newsletter designed in the well known UI with the same name style. This premium template is perfect for weekly or monthly updates newsletter. The package includes both PSD and ready coded HTML versions. The code uses inline CSS for styling.
Glenn Email Template
Box style email template that make your information look more easily to read and unique. With a contrast color panel, for more specific content to clearly and easy noticeable.
MultiMail Newsletter Template
MultiMail is a Stunning and Responsive Email Template , Compatible with Major Email Clients
Vince Email Newsletter
Vince a flat design email template. with a big heading area placing your brand and logo.
Quinn Email Template
Beautiful email template suitet for your newsletter or showing your products.Includes 2 style for body layout (full width and Box style). with 14 different modules.
Letter Email Template
Gabriel Newsletter Template
Gabriel is a simple, clean and responsive email template. This template can be use in both Campaign Monitor and MailChimp with include 22 difference repeatable module! come in 5 color scheme for the most flexibility uses.
Fresh Newsletter
MyMail Email Newsletter Template