Corel has just releases the 4th version of its natural media graphics program, a new version which prides itself with improved functionality and a great number of new features.
If you are not familiarized with this application suite here's a brief description :
Corel® Painter™ Essentials 4 is the simple-to-use home art studio that makes it easy for you to sketch, paint and turn your photos into paintings.
Even though the graphic design field is dominated by Adobe, they still don't have an application dedicated to the area of natural media graphics, and this is where this new release from Corel comes in. Corel already offered Painter for this design field, a tool useful for a wide range of users such as illustrators, photographers and concept artists. However not everybody requires the full functionality of Painter. And this is exactly what Painter Essentials is, a semi-professional, lower priced, cross-platform version of Painter.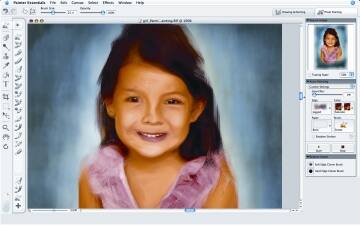 New in this version is the support for both Windows Vista and Mac universal binary. Other new features include : the Brush Drawer for easier brush selection, a Magic Wand for color selections, many new brushes that includes RealBristle, said to reproduce the natural movement of the artist's brush down to the individual bristle level, a new and improved Interface, and a new Brush Ghost.
For more information see the Corel Painter Essentials 4 website.