Even though almost every aspect of business is quickly moving online, modern business cards, made with classic materials (paper, plastic, metal) are still a must-have for professionals. From networking events to meeting someone on an airplane, having a modern business card on-hand is the best way to start fostering a potentially beneficial relationship for both you and the people you meet.
Business card design comes in all different styles. Unless your business or personality resonates with a specific style, a modern look is a great way to go. Here are 5 tips for creating modern business cards which will impress.
Tip #1: Minimalistic Design
A very minimalistic logo designed from just one color that creatively uses white space featured on the front of a business card is an excellent way to create a modern business card. On the front will be the logo or design, and on the back you can list pertinent information including name, business name, tag line, and contact information.
Tip #2: Black and White
The hue combination of black and white will always be the perfect color scheme for a modern look. While it might sound simplistic, by simply only using black and white on a business card, you will be much more likely to design something contemporary that everyone thinks looks sharp. Also, black and white won't detract from the pertinent information on your card.
Tip #3: Modern Photography
Traditionally, business cards are all about words and possibly a logo. However, for a new modern twist on the old style, consider featuring a modern style photograph on the front of your business card. Depending on your industry, the options are nearly limitless for what kind of photography should be featured. For example, an architect might want to use a photo of a building, or an interior designer might prefer to use a piece of décor that exemplifies their work style.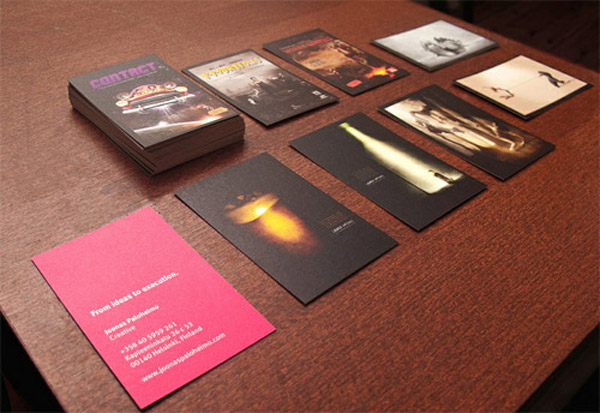 Tip #4: Embossing
Embossing is the art and style of using a "stamp" to create a raised pattern on your business card in the shapes of letters and more. Embossing gives business cards texture and a classy style. The best part is, embossing allows you to use only the color of the business card paper, making it a very minimalistic appearance which often translates into modern.
Tip #5: QR Code
QR codes are a relatively modern tool which allows people to take a photo of a code on your business card with their smartphone. This code redirects them to your online resume, portfolio, or website. It's a great way to bridge the gap between a paper-business card and all your work online. However, some people feel QR codes are already cliché, so be sure your industry is receptive to this tool before using one on your business card.
What do you think ?
I would love to hear your opinions regarding modern business card design techniques.