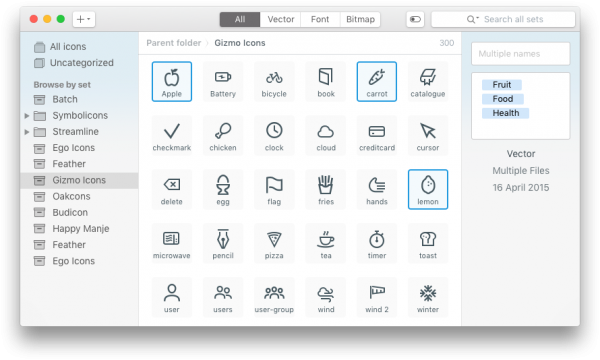 Are you looking for an easy way to organize your icon sets? There are tons of great paid and free icon sets. After awhile your workflow starts to slow down as you find yourself sifting through folders.
Iconjar is a free Mac App (for now!) that allows you to store all your icons in one place. As a native app it allows you to organize all your icon assets. Instead of searching for the correct icon in a set you can easily search through all your icons. It's so fast it starts to search while you type.
According to the app's creators, "We created Iconjar because I had to cope with thousands of icons on my computer. Iconjar offers a great overview of all my icons which makes finding the right one easier."
It plays nice with all the most popular graphic design apps like Photoshop, Sketch, and Illustrator. They also have a nice freebie section of their site where you can download premium free icons.
Don't just take our word for it. When Icon Jar was announced on Product Hunt it was met with fanfare from many designers:
Iconjar is still in beta at the time of writing but you can download for free on their website. They have been working on new features and are open to feature requests. If you have yet to try Iconjar you should grab a free download.
Iconjar is part of a new set of graphic design software that helps improve a designers workflow. These apps help designers by giving them more specific tools. Iconjar joins the ranks of Zeplin and LiveSurface.