This month is coming to a close, so today we'll look at some awesome design resource and interesting bits that we came across and saved for you guys.
Processing.js
Processing.js is the sister project of the popular Processing visual programming language, designed for the web. Processing.js makes your data visualizations, digital art, interactive animations, educational graphs, video games, etc. work using web standards and without any plug-ins. You write code using the Processing language, include it in your web page, and Processing.js does the rest. It's not magic, but almost.
Isometrics Drawing Tool
This is an interactive tool to create dynamic drawings on isometric dot paper. Draw figures using edges, faces, or cubes. You can shift, rotate, color, decompose, and view in 2?D or 3?D. Start by clicking on the cube along the left side; then, place cubes on the grid where you would like them.
Treehouse
Want to learn the skills to land your dream job? Then choose from hundreds of courses today taught by our expert teachers. Much like Coursera, Treehouse provides the most up-to-date content for students, but are more related towards the field of IT including HTML, CSS, Design, JavaScript, Ruby, PHP, WordPress, iOS, Android and more! Each course is delivered through meticulously crafted videos, quizzes and code challenges that teach core skills necessary for standing out in the job market of today.
Storify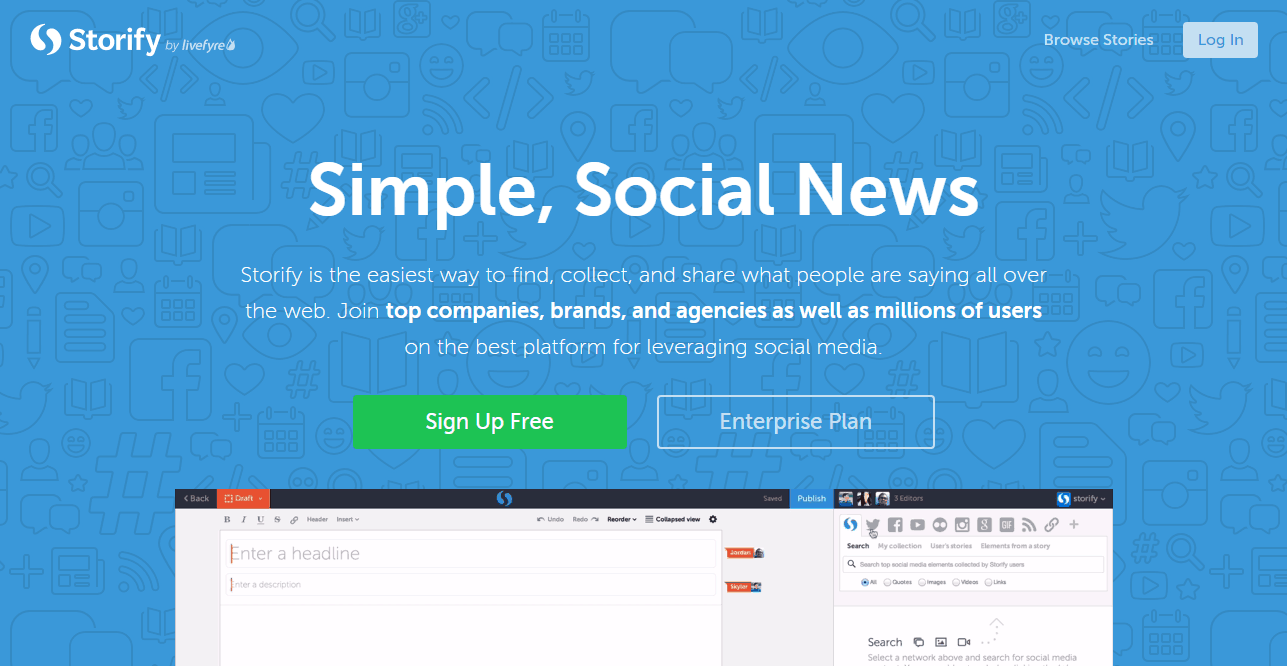 Storify is the easiest way to find, collect, and share what people are saying all over the web. Join top companies, brands, and agencies as well as millions of users on the best platform for leveraging social media. From breaking news to your fans' views, bloggers, brands, businesses, and others are turning social content into shareable stories every day.
DWNLD
If you wanted an app for your company site, here it is. DWNLD is a 100% no code required app that allows you to publish your articles from your site to mobile instantly. They'll even make this app available for you in the app marketplace for free, so take your brand to a whole new level!
Grid Item Animation Layout
As always, Mary Lou and her team is giving us a cool experiment for a responsive, magazine-like website layout with a grid item animation effect that happens when opening the content. The sidebar and grid items animate to a larger content area when clicked so this allows more content to be added. Other demos are included in this awesome effect! 
Neon Flames
Draw your own nebula right in your browser! If you haven't yet been to our Facebook page recently, you wouldn't have noticed our amazing cover which has been done using Jonas Wagner's amazing programming skills. A software engineer based in Zurich, Switzerland, Jonas hacks on creative projects and open source stuff to bring us cool playthings like these neon flames. Head over to his site for more jaw-dropping code!
Timehop
Your own time capsule of your life, Timehop shows old photos and updates from Facebook, Twitter, Foursquare, Instagram, Flickr and your camera roll photos from this exact day in history. Timehop helps you celebrate the best moments of the past with your friends!
Scribbler Too
The Scribbler takes simple vector based inputs and creates a drawing based on a number of simple rules. When a new scribble line is created it chooses a few numbers at random that eventually determines what sort of line it will draw. Because there is randomness built into the program, each scribble is unique and produces one heck of an art piece. We've even made one for our Facebook page previously.
Flatsies
Save precious time and make your clients happy, Flatsies is a tool for designers to share their concepts with clients in a simple and elegant way. Join Facebook, Twitter, Firefox and Adobe and utilise this ultimate resource that's built for designers.
Wysp
A place for creatives who want to grow ever bigger and better. Wysp is about practice and progress. It functions as both a social network for sharing your art and giving or receiving advice, and an innovative learning tool to better your skills. If you need some help honing your skills, check out WYSP!
HTML5Boilerplate
As the web's most popular front-end template, HTML5 Boilerplate helps you build fast, robust, and adaptable web apps or sites. Save an enormous amount of time and kick-start your project with the combined knowledge and effort of 100s of developers, all in one little package.
Procreate
For iPad designers, Procreate brings fundamental tools to users with its breakthrough digital brushes while seamlessly combining the responsiveness of touch screen interaction with blazing performance. Packed with over 120 beautifully-made brushes ranging from true-to-life sets of pencils, inks and paintbrushes, this is the perfect tool to let you work in ways you never dreamed possible.
There you have it guys, if you have any other tools and resources you'd like to see featured in next month's post, send it to us via our contact form. Happy Labor Day!