Users across the web have been asking Adobe to offer a military discount on their products. Unfortunately, at this time they do not offer a military discount on any products. But wait, that doesn't mean you still can't get a discount on Adobe Photoshop, or the entire creative suite. This may be surprising as large software companies like Apple, Dell, and Microsoft all offer discounts.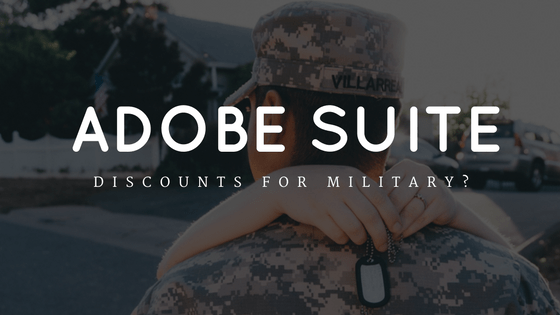 It is possible that Adobe could introduce a new promotion for the military at a future date. We will update this post in the event that this happens. If you feel strongly that they should offer this we suggest that you write them an email letting them know. It would be great if the servicemen and women were able to get a discounted rate, as many returning service members take up jobs in the graphic design and development industries.
Adobe offers multiple discounts depending on what you're looking to purchase and who you are.
Military Discount?
We wanted to thank Ruyton from the Adobe forum for investigating if there was a discount available for veterans or those in the military. After three long phone calls with the Adobe chat, customer service, and sales team. He unfortunately, found out that they don't offer a discount.

Discounts Available
The best discount available for the Adobe suite is the student or teacher rate. To get this you will need a .edu email address. The military is very much a proponent of servicemen and women becoming educated. If you have at least 90 days of aggregate active duty since September 10, 2001 or still are on active duty you can apply your G.I. Bill benefits to college classes. If you are taking college classes you will have a .EDU email address and will it be able to get the educational discount on the Adobe suite. We know, Adobe Photoshop is expensive BUT…unless you are an employee we can still get something free!
If you can't get the EDU discount you can still get something from Adobe! They are running a promotion where you can get 10 free images from Adobe Stock.
The G.I. Bill allows full tuition and fee payments directly to the school for all public in-state students. If you're attending a private or university outside of the United States there is a cap. either way the G.I. Bill is a great way to learn a skill and get Adobe Photoshop or get creative suite at a discount.
If you are looking to get a degree in graphic design, there are many great state and public universities that offer graphic design degrees. Adobe often issues their creative suite to students and members of large businesses. If you already belong to a university or a large company it is worth asking if they will provide you a subscription for free. Additionally, if the software is needed for your job you would be able to make a reasonable case that they should purchase it for you.